The well-being and comfort of your snake starts with optimal living conditions. To benefit from this, it will need a terrarium that meets all its needs and obligations. The design of its habitat is crucial, as it will live for its entire life. In this article, we will give you all our advice to optimize your reptile's living space and allow it to be as happy as possible.
Terrarium Materials
There are different types of materials for your reptie terrarium:
Glass Terrarium
The glass terrarium is ideal to offer a beautiful luminosity to your animal. It is also very appreciated for its aesthetic aspect and its ease of cleaning, although it is heavier and more fragile.
We advise you to choose an all glass terrarium, as it is easier to heat than a terrarium with a grill on top. Indeed, the latter could create a heat loss whereas a fully glazed terrarium will only require a heating mat to offer the right temperature to your snake.
Wood terrarium
Wood retains heat perfectly, allowing the terrarium to be heated more easily. Nevertheless, this material remains sensitive to humidity. It will therefore require more maintenance and cleaning is also more complicated.
In terms of cost, it is more economical than the previous one. It usually has only a glass facade and the rest is made of OSB. To save even more, it is also possible to make it yourself if you are a little handyman
PVC terrarium
This terrarium combines the advantages of the two previous ones.
It has a good insulation, a good resistance, and is easier to clean. The other advantage is that you can stack several of them to save space. This terrarium is particularly convenient if you want to breed.
The quality of the materials also offers a longer lifespan. However, this implies a higher price.
Terrarium Size

Your snake terrarium should reproduce the biotope and microclimate of your snake's natural environment in the best possible way.
Depending on the species and the habits of the reptile, you should choose a long, wide or high terrarium and equip it accordingly.
Semi-arboreal snakes are equally at home on the ground or in trees. Among them, we find the corn snake, the Ball Python, the California Kingsnake or the Boa Constrictor.
For this type of snake, you should choose a balanced terrarium, that is to say with enough space on the ground so that it can move around easily, but also with enough height to be able to place branches on it and for it to climb.
Arboreal snakes live most of their time in trees, and very rarely move on the ground. This is why they will need to be in a high area with many branches to climb.
Among them, we find a snake very appreciated by beginners, the Morelia bredli, which belongs to the Python family.
So, choose a high terrarium and fill it with many branches of different diameters and heights so that your snake can move easily.

Rarely living in branches or trees, this type of snake spends most of its time on dry ground strewn with rocks.
To best replicate its natural environment, the terrarium should be wider than it is long to accommodate objects of different textures and heights.
Size and age are also two essential factors in the choice of a terrarium. Indeed, placing a small snake in a space that is too big risks stressing it and vice versa. You will certainly have to change terrariums during the life of your reptile if you adopt one at a young age.
Terrarium Accessories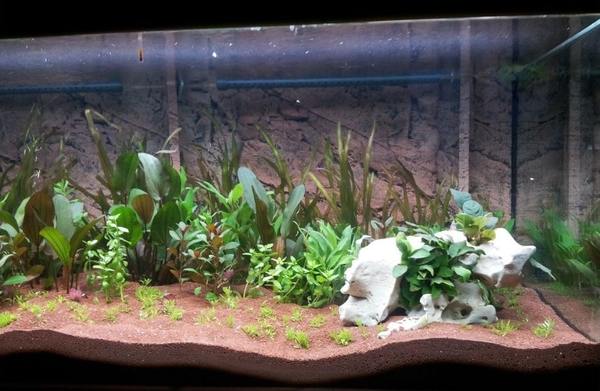 In order to offer a nice living space, the terrarium must contain some essential accessories, such as :
Two hiding places

: For your snake to feel safe, your reptile will need several hiding places: one in the warm area and one in the cold area. For example, a bark or a tree trunk will do the trick. You can also use a coconut with a hole in it for him to hide inside.

Decorations

: Decorations are as important for you as they are for him. Indeed, some objects like branches or rocks will allow him to climb on them. However, avoid overloading the terrarium. Your snake must have enough space to move around easily. Note that the rock is particularly useful for your reptile because its rough surface will allow your reptile to rub against it during its molt.

Substrate

: The substrate should be tropical or neutral. Choose something that absorbs well and is neither harmful nor aggressive for him. For that, we advise you hemp or linen, which does not create dust. Moreover, this type of substrate is soft and allows your reptile to sink into it.

Water bowl

: In addition to being used for drinking, it must be large enough for your reptile to immerse itself in. You can choose to place a simple water dish that you have lying around your home, or you can purchase one at a pet store (or specialty store) to make it look nicer.
All of these items should be placed in a balanced manner. Your reptile should be able to move around easily in its terrarium. This balance will come with experience.
Terrarium Heating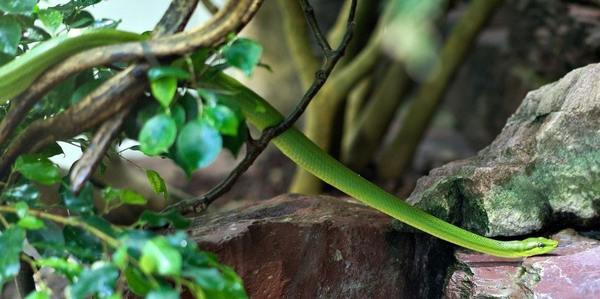 The temperature of the terrarium is the essential element for the survival of your snake of the terrarium. Your snake must have a warm and a cold zone. To achieve this, you can use several solutions such as a heating mat to be placed under the terrarium or heating cables that allow you to better target the area to be heated. You can also use the traditional heating lamp that is placed inside the terrarium. Be careful, if you use this last method, make sure to wrap it well so that your snake does not get burned.
Terrarium Light
The lighting of the terrarium is also a very important point. Indeed, it contributes to the well-being and development of your animal by maintaining its metabolism.
He will need UVB rays (those found in sunlight) to synthesize vitamin D3. We therefore recommend that you install a UVB lamp in the terrarium.
Terrarium Area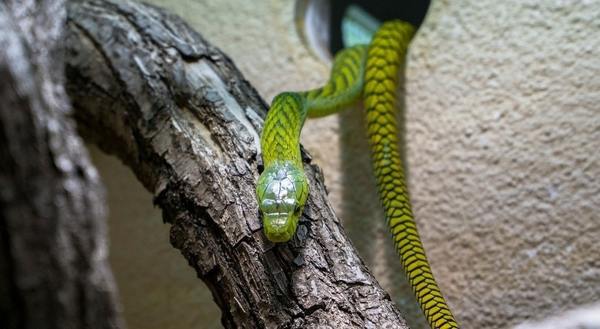 This advice may seem logical, but the terrarium must be placed inside your home, the best being in a quiet place to limit the stress of your pet.
Avoid placing it directly on the floor because the cold of the tiles could disturb the heating. Moreover, the vibrations caused by your steps will be perceived as threats by your snake.
The 3 criteria to respect are: a quiet room, a medium temperature and a high location. With this, you are sure that your snake will feel comfortable.
Conclusion
The terrarium should be chosen according to the primary needs of your snake. Its layout must be balanced and it must be heated to the right temperature to recreate its natural environment. It is also important to place a quality substrate, absorbent and not dangerous, and must have several hiding places in each area. It will also need accessories such as rocks, bark, trunks and branches. A large enough water bowl will also be necessary for him to drink and immerse himself. And all this must be in a terrarium of suitable dimensions, offering a space big enough for him to move around, without being excessive. It will depend on the species of your snake.
Now you have everything you need to set up your terrarium and put your snake in optimal conditions. Do not hesitate to share your experience on this subject in the comments. For more content on snakes, we invite you to join our private club by subscribing to our newsletter. You will then receive our new articles in advance. You can also visit our online store. You will find a large choice of Snake Jewelry and Accessories.